The Witness Blanket
Rental fee: No rental fee.*
Space requirements: 100 to 140 square metres
About the exhibition
A travelling exhibition developed by the Canadian Museum for Human Rights and Artist Carey Newman
The Witness Blanket is a powerful art installation created by master carver Carey Newman to recognize the atrocities of the residential school era, honour the children and symbolize ongoing reconciliation.
Inspired by a woven blanket, this cedar‐framed artwork is made of hundreds of items from residential schools, Survivors, churches, governments and other cultural sites across Canada. Each item tells a story of loss, strength, resilience and pride.
The Witness Blanket is currently housed at the CMHR awaiting installation in our core galleries. Two reproductions have been created for offer to other venues, allowing its Stories and messages to continue being shared. In these wood‐framed reproductions, direct‐printed wood panels take the place of the original artifacts and interior frames.
*Venues are responsible for incoming shipping costs.
Photos of The Witness Blanket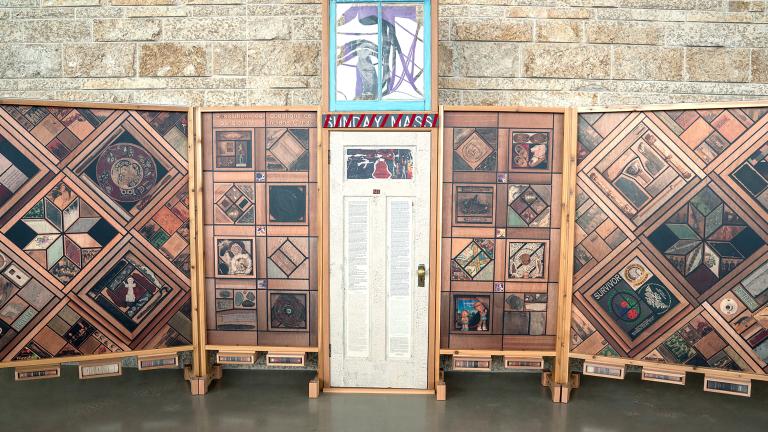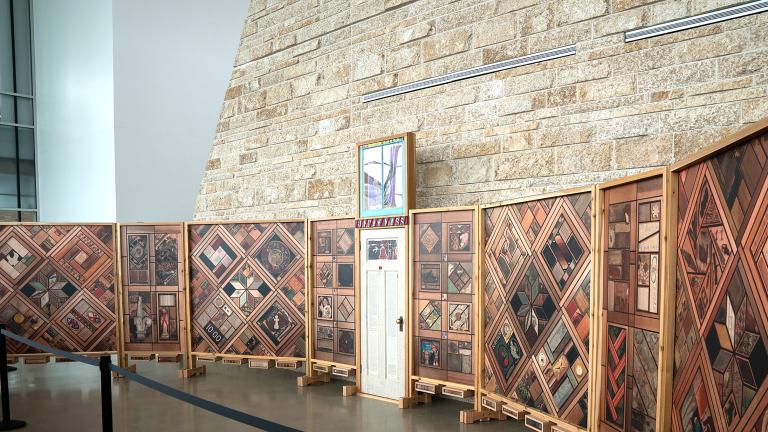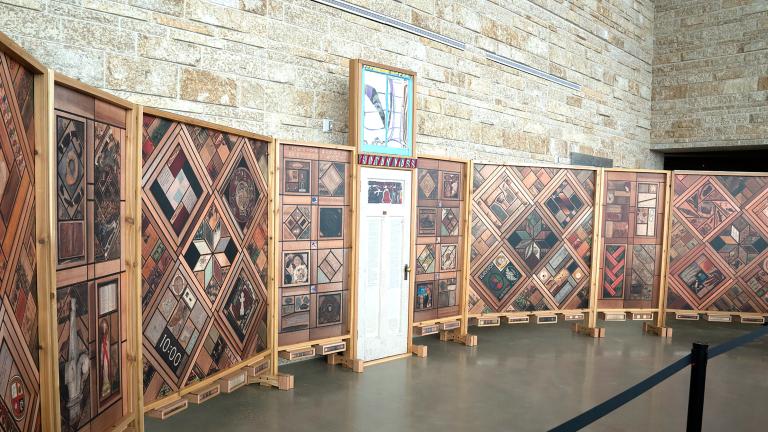 Slideshow controls
Tour schedule
We are currently booking this tour for dates into 2025. Venues will be added to the official tour schedule once dates are finalized.
Woodland Cultural Centre (Brantford, Ontario): December 21, 2020 – March 27, 2021
Vancouver Island Regional Library (Nanaimo, British Columbia): June 1, 2021 – September 1, 2021
Laichwiltach Family Life Society (Campbell River, British Columbia): September 20, 2021 – October 30, 2021
Arts Centre at Cedar Hill (Saanich, British Columbia): November 8, 2021 – December 10, 2021
Kelowna Art Gallery (Kelowna, British Columbia): January 15, 2022 – April 10, 2022
Lester Centre for the Arts (Prince Rupert, British Columbia): May 4, 2022 – May 31, 2022
Exploration Place at Fraser Fort‐George Regional Museum (Prince George, British Columbia): June 20, 2022 – August 20, 2022
Kwanlin Dun Cultural Centre (Whitehorse, Yukon): September 26, 2022 – December 16, 2022
Inuvialuit Regional Corporation (IRC) Inuvik (Inuvik, Northwest Territories): January 23, 2023 – March 31, 2023
RCMP Heritage Centre (Regina, Saskatchewan): February 13 – March 24, 2023
Northern Life Museum and Cultural Centre (NLMCC) (Fort Smith, Northwest Territories): May 1, 2023 – July 31, 2023
NorVa Centre (Flin Flon, Manitoba): June 12, 2023 – July 22, 2023
Harris Learning Library (North Bay, Ontario): January 8, 2024 – February 14, 2024
West Vancouver Memorial Library (West Vancouver, British Columbia): January 22, 2024 – March 8, 2024
Saanich School Division (District of Saanich, British Columbia): March 25, 2024 – May 10, 2024
Touchstones Nelson Museum of Art and History (Nelson, British Columbia): August 5, 2024 – September 20, 2024
Tatamagouche Centre (Tatamagouche, Nova Scotia): August 26, 2024 – October 5, 2024
Contact details
Brodie Sanderson (he/him)
Travelling Exhibition Manager
Canadian Museum for Human Rights
204-289-2042